Dental Implants in Barrington, Rhode Island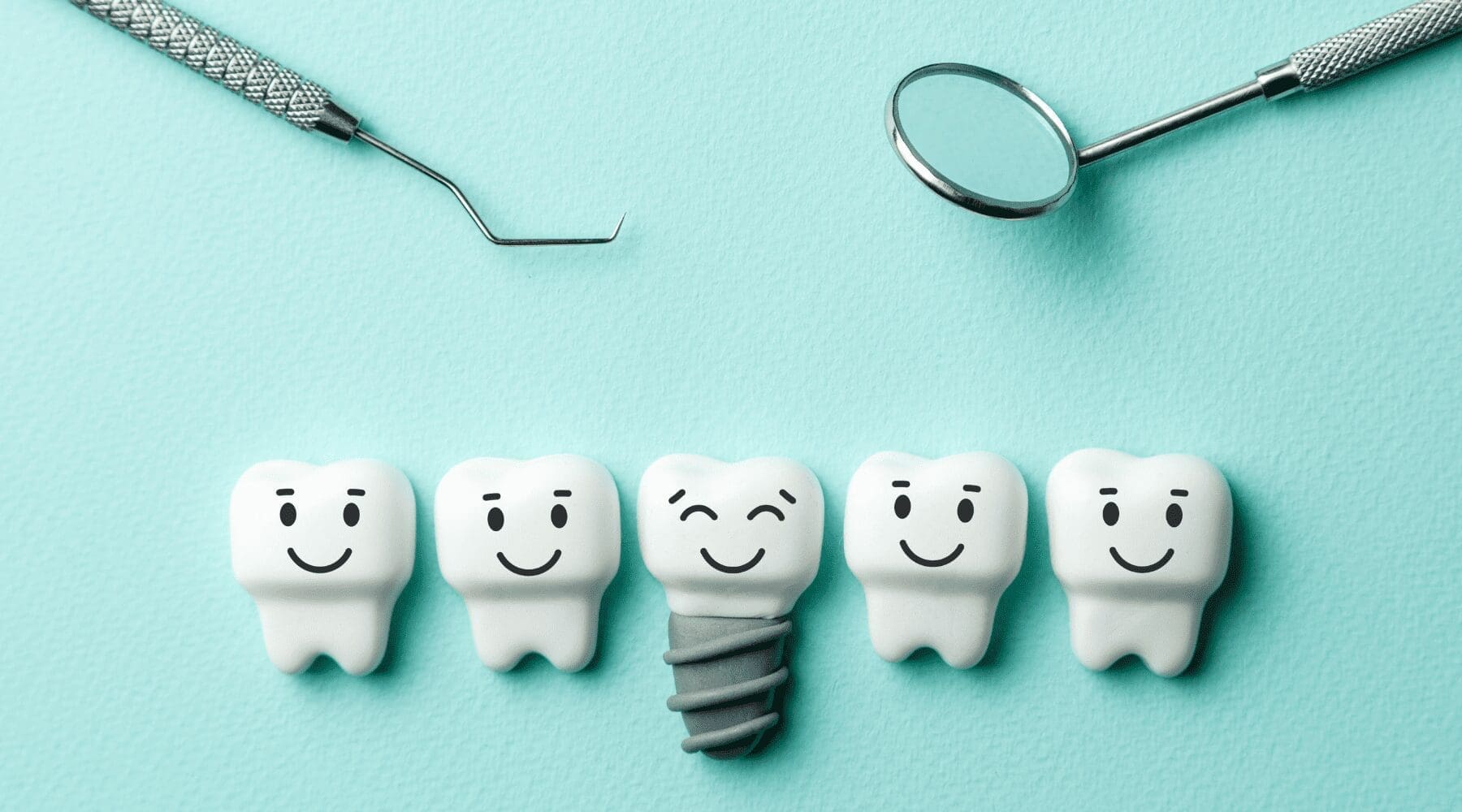 Missing teeth are a common problem aesthetically, but even worse are the physiological effects. One missing single tooth can significantly impact your oral health negatively. Dental implants might be your best option if you have a missing tooth or have lost most of your teeth to periodontal disease or tooth decay. Dental implants restore the function of your smile while boosting your confidence. 
At Maple Avenue Dentistry, we can help you understand all of your options for tooth replacement, including the many choices available with dental implants. Our Barrington dental practice will work closely with you to determine the proper dental care treatments for your smile. We even offer convenient follow-up care to ensure a lifetime of better health for your teeth and gums.
What are dental implants?
Dental implants are titanium rods surgically inserted into the gums sockets left by missing teeth. These artificial roots are accepted by your body and provide a solid and robust base for replacement teeth. 
Dental implant surgery is the best long-term solution for missing teeth. Dental implants have incredibly high success rates and are the new standard in tooth replacement because they function and feel like your own teeth.
Three parts make up a dental implant.
-The implant:

a titanium screw inserted into the patient's jaw bone where the original tooth used to be

-The abutment:

a small piece that connects between the tooth and implants and ensures an excellent fit

-Crown:

part of the tooth that matches the rest of your teeth and is attached to the implant 
During the implant's placement, an incision is made into the gums for the new tooth root to be placed into the jawbone of the missing tooth's location. Once implanted, the gum tissue is closed over the implant.
The jaw bone integrates with the titanium roots in a process called osseointegration. The bone grows around the post, making it part of you and a very durable base to anchor your new tooth or teeth. Osseointegration can take two to six months. You may ask your dentist for a temporary crown to be attached until the restoration process is complete. 
Once the implants have completed osseointegration, an abutment attaches to the implant post. The new crown fits on the other end of the abutment. Once secured in place, your brand new teeth should instantly feel comfortable and completely natural. Click here to learn more.
What are the Benefits of Dental Implants?
Compared to fixed bridges, dentures, and other surface restorations, dental implants offer several benefits. They are the most natural-looking type of restoration for missing teeth. They can give you the most freedom with your daily activities. Dental implants are permanent, and they can provide superior comfort over dentures, which may slip out of place or break during regular use. Follow this link.
The most significant benefit of implants is the ability for greater enjoyment of life. Anyone missing teeth sacrifices their confidence and the ability to smile and laugh without covering their mouth in shame. But benefits go beyond this: 
-Improved appearance:

When there is tooth loss, there is also loss of bone support to your facial structure. Without this support, your face can eventually change shape, making you appear older or gaunt. Dental implants provide the same support as your natural teeth.

-Easier speaking:

Removable dentures slip and slide in the mouth and impact speaking ability, causing embarrassing slurring and mumbling. 

-Easier eating:

Implants are secured into your jaw and allow you to bite with the same amount of force as your natural teeth. You can again enjoy all the foods you love.

-Easy care & convenience:

Implants don't require glues, cleaning tablets, or weird flossers. Just brush as usual!

-Improved oral health:

Dental implants don't require attachment to other teeth, as a dental bridge does. The surrounding teeth are untouched, improving oral health all around.

-Bone loss prevention:

When teeth are missing, bone loss occurs in the jaw. Bones need constant stimulation from teeth. Dental Implants provide this stimulation.

-Durability:

Other options in tooth replacement need repairs from time to time or replaced periodically. Dental implants can last a lifetime if properly cared for.
Dental implants are cost-effective and can last for many, many years if cared for properly. Placing a dental implant is straightforward and is a regular treatment here at Maple Avenue Family Dentistry.
Call Maple Avenue Dentistry today to schedule a consultation where you can discuss every aspect of dental implant treatment in Barrington, Rhode Island. Our practice cares for patients of all ages with more than 70 years of combined experience among our staff.